SAI DHANVANTHARI
A TRIBUTE TO THE SATHYA SAI SUPER SPECIALITY HOSPITAL
---
The impossible made possible
I was fortunate to be present on the Shaanthi Vedhika of the Hill View Stadium on that historic morning of 23rd November 1990 when Bhagavaan Shree Sathya Sai Baba electrified the vast assembly of people by His announcement that exactly a year hence there will be a massive Super Speciality Hospital Complex in the environs of Puttaparthi. But there were many sceptics who would not just believe that such a complex could be constructed with high-tech equipment and manned by highly specialized teams of doctors in an interior remote village in a semi-arid area with not even minimal infrastructure and, at that, far away from any big metropolitan area.
It was in April 1991 that Baba casually mentioned to us in Kodaikanal about the financial aspects of such a project – the scope of which none of us there could comprehend. It was in May 1991 in Thrayee Brindavan, Bangalore that we got a glimpse of the first set of rough blueprints. We all thought that it would be next to impossible to have such a big project readied for the first heart surgery by November 1991.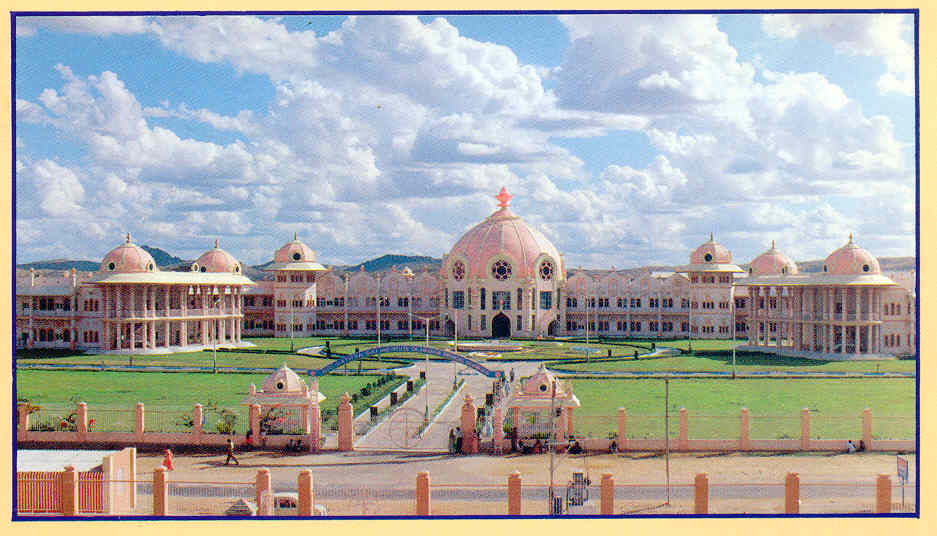 To the wonder and amazement of one and all, particularly the medical and engineering personnel, an architectural marvel of a super-star palace-like Hospital emerged from the skyline of the Puttaparthi hills, adjacent to the sprawling runway of the newly built Prashaanthigraam airport building. Wonder of wonders, a team of well-known doctors successfully performed the first open heart surgery on a patient on 22nd November 1991 as announced a year earlier by Baba – to the great surprise of all the critics and sceptics from the engineering and medical professions. The biggest wonder is that all, repeat, all services including not only medical and surgical but also bed and board are provided totally free in this Hospital!
Later, when Svaami enquired of me in the Mandhir Verandha whether I had seen the new Super Speciality Hospital, I expressed my amazement saying, "only a Siddha Sankalpa could achieve such a miracle." Svaami immediately corrected me by stating that it was a case of Sankalpa Siddhi and it is not like the resolve of a Siddha, an accomplished yogi who requires powers by strenuous strivings & austerities. Here in His realm, SANKALPA MEVA SIDDHI, "mere wishing is fulfilling"! The hospital is the result of unfailing divine will; what Svaami wills fructifies without any impediment.
Installation of Dhanvanthari Statue
A few years later I remember another hospital related event when a full-length pure white marble statue of Dhanvanthari was being installed in the frontage of the Super Speciality Hospital.
Dhanvanthari, the Divine Physician, is one of the KALA avatars or functional incarnations of VISHNU for the propagation of AYURVEDHA – the holistic Vedic system of Medicine for health and longevity. Svaami casually asked me how was the Dhanvanthari statue, whose height seemed somewhat shorter than expected. I blurted out that the statue measured upto Sathya Sai's own height!


Dhanvanthari Statue from Sai Paduka Trust

On that day I was suffering from a fever and prayed to Svaami as Dhanvanthari the Divine Doctor. After all, Svaami is the doctor of doctors. He is a divine surgeon, a divine pharmacologist, a divine physician. There are innumerable instances of his mind boggling medical miracles. He cures many illnesses of the body, mind, intellect and above all of the ego which is the biggest obstacle to Spirituality. With his Vibhuuthi materialized from his empty palm he has cured innumerable illnesses. He has also performed surgeries, materializing surgical instruments! He materializes actual medicines from his divine hand. While I was in that contemplative prayerful mood, Svaami advanced towards me, materialized for me Vibhuuthi, sacred ash, from his right palm while holding a huge bunch of letters in his left hand. This scene witnessed daily by the devotees gathered in Sai Kulvant hall at Dharshan time triggered in me a prayer for Sai Dhanvanthari i.e. Sai as the divine doctor.

This prayer in Sanskrith reads as follows: -

DHAKSHINE HASTHA-CHAALANA VIBHUUTHIM,
VAAME BHAKTHA-LEKHA-LASATHKARAM I

AAYURAAROGYA DHAATHAARAM,
SAAYI DHANVANTHAREEM UPAASMA HE. II

The purport of this Sanskrith Prayer is:-

Dhanvanthari holds in one hand a medicine chest and in the other hand the Amrith Kalasha, a vessel of nectar for longevity; similarly, Baba keeps creating from his right hand Vibhuuthi with a mere waving of his empty palm while holding letters of appeal for relief from devotees suffering from various types of illnesses. I therefore adore and worship Lord Sathya Sai as the modern Dhanvanthari who bestows health and longevity.

I repeat this prayer-filled verse whenever I feel unwell; it has paid rich dividends many times. This prayer was repeated by thousands at the time of the recent yagnas in Prashaanthi Nilayam when 75 idols of Ganesha were exhibited.
Excellent loving medical care, free of all costs
It was just about six years ago that I myself became a direct beneficiary, just as many thousands before me, of the unforgettable and remarkably most efficient medical, loving and patient care at the Sri Sathya Sai Super Speciality Hospital.
One day after the morning Bhajans, I was returning to our apartment, when I felt heaviness in my chest, with profuse sweating. My gait slowed down while I walked back home, praying to Svaami. Detecting that something was wrong, my wife called the hospital which immediately responded to our urgent call. Within minutes we were at the massive entrance hall of the Temple of Healing. An attending doctor along with a medical auxiliary wheeled us into the cardiac department. All necessary tests were conducted with lightning speed and I must emphasize with unforgettable loving attention.
I became an inpatient in the Cardiac Ward for a 48-hour testing period with automatic monitoring of my heart condition. There were repeated visits by medical and auxiliary personnel carefully and lovingly monitoring my situation. I was most comfortably looked after in the room which was more like a super-star hotel room but fitted with the most modern hi-tech equipment. The room and the ward was kept spotlessly clean, airy with good lighting. The attending doctors were highly dedicated, extremely considerate and needless to say, professionally most competent. The auxiliary nursing and other staff who are all well trained were very alert and most attentive to the needs of every patient. The patients – most of whom were economically poor – were treated, if I may say so, like "princes"!
Most of the patients in the ward came from interior rural areas of Ananthapur district and there were also several patients from afar – from Orissa and distant Himaachal Pradesh. The hospital food was clean, nutritionally balanced and surprisingly quite tasty, with early morning breakfast, mid-day lunch, afternoon snack and dinner lovingly served by the Seva Dhal volunteers who happened to be, at that time, from Himaachal Pradesh.
A Unique Temple of Healing
What is strikingly different from the hospitals I had seen particularly in New York (where I worked in the United Nations Head quarters as an International Civil Servant for nearly three and half decades) was the tender loving care of patients combined with minute attention to the complete comfort and assurance to the patient along with dedicated services of highly qualified experienced doctors, auxiliary personnel and excellent hospital management. It is unbelievable that such a super speciality hospital rendering totally free medical, surgical, services, inclusive of free food and rooming could come into place in less than a year in a purely rural area. Architecturally speaking, the Hospital is one of the most beautiful buildings in the country, situated in sylvan rural surroundings overlooking small hills in the area.
The after-care follow-up of patients is also most impressive. As an outpatient over the years, I have visited the hospital several times. I have known personally several cases of poor patients – rikshaw pullers, small fruit stall vendors, taxi drivers, minor functionaries, little children and infants all with heart problems on whom successful complex heart surgeries have been performed.
Conclusion
My hospital stay in the Sathya Sai Super Speciality Hospital remains as one of the most pleasant, beneficial, truly healthful experiences in my entire life spanning seven and half decades, most of which has been spent abroad. That such a hospital rendering totally free medical services to hundreds and thousands of poor people has been functioning for nearly a decade with remarkable heart, kidney and opthalmological surgeries along with a most excellent reliable, free blood-bank services in the entire country – all services being rendered with total dedication, professional competence aided by modern hi-tech equipment and, to top all, in an atmosphere radiating love, is indeed a contemporary Sathya Sai miracle.
Hail and further glory to this monumental institution planned, founded, maintained and closely supervised by the Doctor of Doctors, Bhagavaan Sathya Sai Baba.
---
\\\\\\\\\\\\\\\\\\

G. V. Subba Rao, Prasanthi Nilayam, August, 2002